5 ideas on where to get married in Italy: find the perfect location, whether you prefer architecturally rich cities or gorgeous landscapes, Italy has it all for your destination wedding.
Italy is a jewel box, we can not really argue with that. You have the embarassment of the choice: from Rome to Venice through Florence and going south to Puglia or the Amalfi Coast… You really can not chose wrong, you just have to follow your taste of mountains/countryside, lake/sea, hotter areas or a little colder ones… Your heart might be set on some location or area of Italy "just because", maybe it's where your loved one proposed, or a long-time dreamt of location, something that reminds you of your family origins maybe or just because you saw magnificent photos of those places on Instagram. The simplest and easiest way to get married is to elope in Italy – having a beautiful symbolic celebration. This also allows you to make it as special and personalized as you would like to, considering that you can chose literally any street or spot in the country.
Note that civil ceremonies in Italy are very quick, 15 minutes and you're done – every city has its own regulations as per where you can legally get married! Most cities list on their website the locations and venues where you can have an official of the city come and marry you as well as the prices (they vary a lot!). I highly recommend you check those websites out when you chose the city — or just simply send them to me and I will help you plan if you would like to make it an official wedding/elopement! I do believe you want your destination wedding in Italy to be more memorable, and less unpersonal. These locations listed below will be amazing for a symbolic wedding which you can personalize at your taste and remember forever. (A future blog post about Rome and legal marriage will come soon!)
1. Rome, the Eternal City
Rome, one of the most important and well-known cities in the world, one of the most romantic ones and probably the most rich in historical things: the Roman Empire had its core there obviously and everything of that great empire started here. to this day you can see remains of the Forum Romanum, where the political life used to be lived, and much more things; including the most obvious: the Colosseum. Whether you prefer a more mainstream location or a lesser one, like Ponte Sant'Angelo, as Simon and Sarah did, you can also choose one the Palazzo that Rome is filled with. These are obviously private/property of the city, so unless a city/street spot you'll have to pay some amount, but how beautiful to have a whole room or Palazzo area all for yourselves, like Alyssa and Andrew did, without tourists?! Just surrounded by the beauty of Art and a few friends/family to witness your happy tears and vows.
Important to note, if you want to get legally married in Rome, there are 3 spots only allowed by the municipality. I honestly do not recommend any of those: the locations are scare in light and it's really expensive if none of you is a Rome resident! (1200€ only for the "rent" of the room).
2. Venice, the city of canals
It's no surprise that Venice comes up immediately when you think about an elopement. The great thing is that the whole city is a wonderful spot to say your vows and go on a photoshoot afterwards, just like Jessica and Andrea did in Campo Santa Maddalena. Palazzo Cavalli is the municipality which offers different rooms to get married in, all of them overlook the Canal Grande and one especially is close to Ponte di Rialto. You can get married there in the morning office hours for an almost reasonable cost, but outside of those hours the costs are really high (and they also vary based on you being a Venetian resident, EU citizen or other, weekday or weekend and if you pay ahead or on site).
3. Tuscany, the golden hills
Whenever you get a chance to visit Tuscany, you're a lucky one! The golden lights over the hills is one of the most beautiful things you'll ever see and experience and the cities are just wonderful: Florence, Siena, etc.
Florence, for example with its romantic atmosphere, is one of the most famous locations for sure. Palazzo Vecchio in Piazza della Signoria is the seat of the political power of the city; inside, civil ceremonies can take place in the Sala Rossa, Sala di Lorenzo or in the Salone dei Cinquecento. There is no shortage of romantic sites in the city. The Rose Garden is a terraced garden located just below Piazzale Michelangelo, with an incomparable view of the city. Getting married here means promising love among 400 varieties of roses, some dating back to the 16th century. A stately villa is certainly a spectacular place for such a special occasion, and Villa Vogel, set in a magnificent park, is one of these options. One of the oldest municipalities in Tuscany is actually Volterra, with a gorgeous ceremony room (and squeaky parquet lol) but really gorgeous! You will feel like transported back to 1400 as if you were the heir of noble families, it's a wonderful experience.

Also, there are a lot of gorgeous villas and civil ceremony possibilities, but obviously you can do your thing and just exchange: highly recommend you check out Tenuta Sant'Ilario with Cristina; Villa Camilla in Acone; Podere Marcampo; all gorgeous locations to enjoy the warm sunset, a pool and delicious food and wine!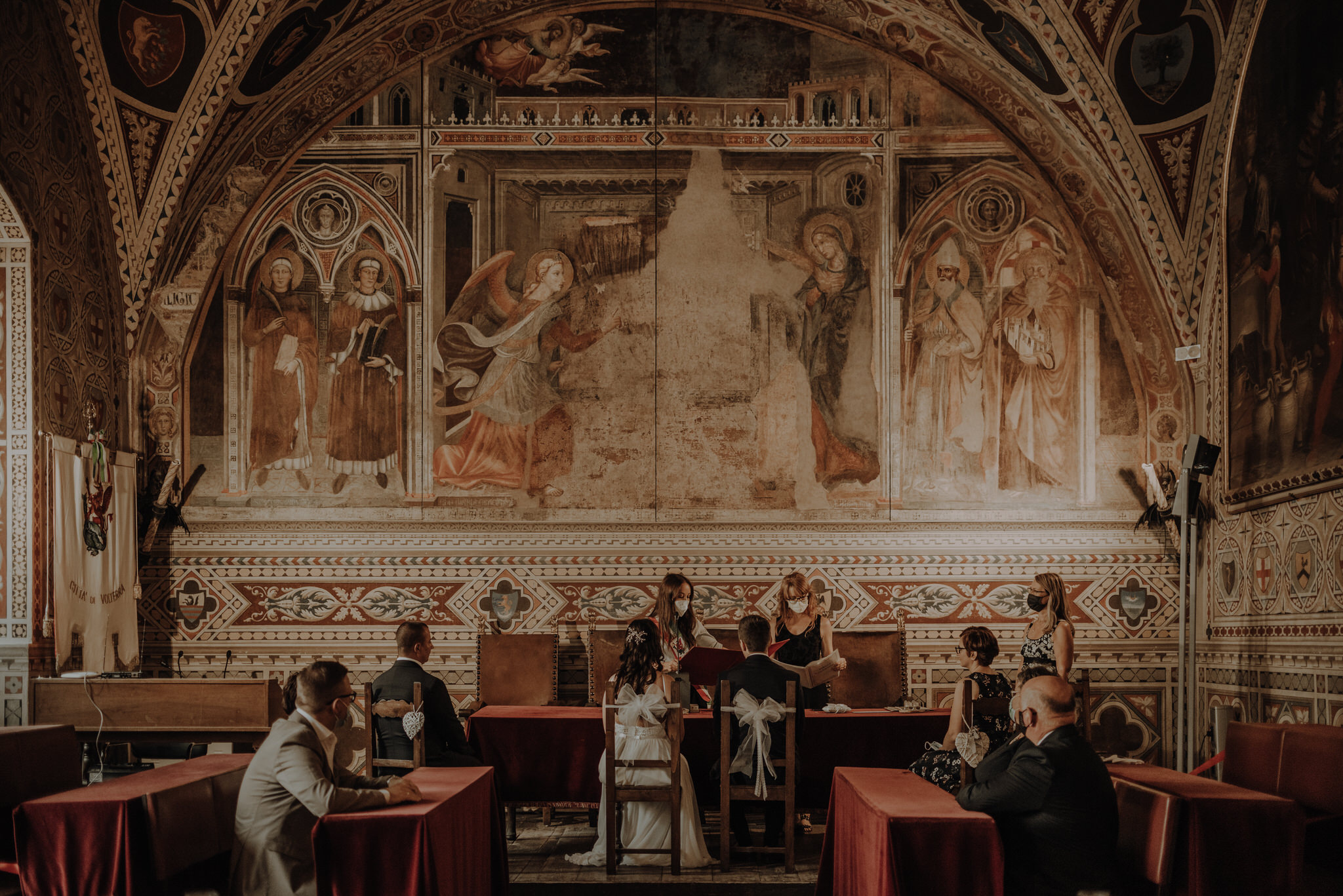 4. Marche region, the underestimated
The Marche region, just like Umbria or Basilicata, is one of those regions that often gets overlooked and underestimated. Less mainstream than Tuscany for example, it has nevertheless a very similar landscape and morphology: hills, lakes… and stunning locations with villas and obviously, olive trees and pools 🙂 A couple options to hold your celebration: Villa Teloni, Casa Olivi. Important thing to keep in mind, since it is a less known/less touristy area of Italy, it is also less expensive than Tuscany while the people and services are just as good. So if you would like to save a few bucks, check out Marche and Umbria!
5. Amalfi Coast, the warm South
The yellow and blue colored Amalfi Coast, one of the many famous areas of Italy, with its gorgeous landscapes such as Positano, Amalfi, Ravello, just to name a few. First recommendation: to get here, whether you go from Rome or Naples, rend a small-ish car, no huge SUV or trucks as the roads are narrow and small and with a lot of turns! No writing on your phone unless you are sure you won't get carsick (also, you would miss the gorgeous landscapes). But then, when you will finally arrive to the sea, the beautiful sunshine will carress your skin, it will be so worth the ride. Delicious sea-food and limoncello will welcome you in one of the most "Dolce Vita" area of Italy. If you want an outdoor civil wedding on the Amalfi Coast, you can choose between the garden of the Princess of Piedmont in Ravello or the terrace of the town hall of Positano. In Capri, you can choose between: the gardens of Augustus, the beautiful sight of Punta Tragara, Punta Cannone or villa Lysis. A few ideas: Giardini del Fuenti – Vietri sul Mare, Villa Cimbrone – Ravello, Belmond Hotel Caruso – Ravello with the marvelous infinite pool, etc…
I can not wait to know which location suits you more and which one you would choose to elope! If you have any request please do not hesitate to reach out using the form below and let's plan your elopement!